Winter Garden/Hunters Creek: Get Your Roof Ready For Hurricane Season
As the Coronavirus has many of us staying at home, it's a great opportunity to get a few of those home projects done. With hurricane season just around the corner, it is a good idea to make sure your roof is ready. But where do you start?
Roof Inspection
A roof inspection will catch a problem in the early stages. For example, finding a small leak can be easily repaired, but if is allowed to go undetected, it could end up compromising the integrity of your roof.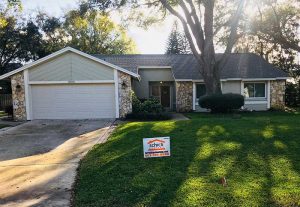 During an inspection, basic roofing maintenance can be taken care of, which is required for most warranties. They can also clear any debris off the roof, which can also save tons of money down the road.
"An ounce of prevention is worth a pound of cure."
If your roof needs an inspection or you suspect damage, contact the roofing experts at Schick Roofing. As a leader in the industry, we provide our customers with an honest and accurate assessment of their roof and affordable services.
Take A Good Roof At Your Roof Both Outside And Inside
You don't need to get up on your roof and walk around, but if you have a pair of binoculars it may make it easier to look at your roof.
On the outside of the roof look for and broken, warped or missing shingles, nails that have popped up, buckling or curling shingles, rust spots on flashing, and a large amount of granules in the gutter.
On the inside of your home, look for any stains or water spots on the ceiling. In the attic look for any wet insulation or the sunlight shining through.
Clean Your Gutters
Definitely not a fun job, but it is imperative to clean your gutters before a hurricane. Clean all the debris and leaves from the downspouts and gutter. If water starts backing up on your roof, it can end up leaking into your house.
Trim Your Trees
Trees near your home and branches hanging over your roof can be especially dangerous during a storm. It doesn't take much for a strong wind to snap a sick tree limb and damage your roof. These winds can also cause debris to build up on the roof, causing moisture to deterioration. Which can lead to a host of problems, such as roof rot.
Look Through Your Insurance Policy
Now is the time to review your homeowner's policy, see what is covered, what isn't, and what your deductible is. A high deductible may make it difficult to afford a new roof, especially with everything going on at the time.