Affordable Orlando Solar Roofing Shingles
Solar shingles are here! Get your solar shingles!!! Welcome to the world GAF Timberline Solar! From panels to shingles- here we go!! Integration with Golden Pledge 25 year workmanship 50 year manufacture warranty. We are excited to partner with GAF and the Master Elite program to offer this new energy efficient system to our customers.
A Roof with Power Added, According to GAF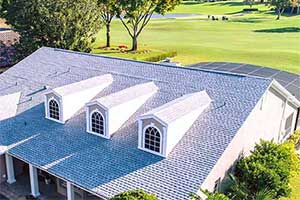 The new Timberline Solar™ roofing system is so advanced it makes solar simple. Homeowners no longer have to compromise when adding solar power to their roof. Get a great-looking roof, a single GAF-backed warranty, and solar energy.
Timberline Solar™ is made up of shingles, not panels or heavy tiles. These shingles are water-shedding, strong and warranted to withstand winds up to 130 mph. Rack-mounted solar installations—where the solar is separate from the roof–require the drilling of dozens of holes into the roof membrane. Any resulting damage related to those holes is not typically covered by roof warranties.
Curb appeal
Investing in a home is no small matter – and the way it looks is important. Timberline Solar™ has a design that blends in with the aesthetic of the house, with elements that add visual appeal like an architectural shingle.
Here at GAF Energy, we strive to not just meet homeowners expectations for roofing reliability, but to achieve breakthroughs with aesthetics.
Timberline Solar™ can supply your home with electricity every day, every hour the sun is shining.
And while we don't want to talk tech jargon, it's met some industry-leading standards such as UL 7103 certification, which means it's been through rigorous testing from an independent certification company that's been around for over one hundred years. We're committed to the quality of our product.
A solar roof is one project, one design, one crew, one straightforward proposition. And, it may pay for itself over time, as it generates energy for the home and reduces monthly electric bills.
If you want more information on solar shingles, contact Schick Roofing.