Winter Garden & Clermont GAF Roofer; Because Workmanship & Materials Matter
Your Orlando roof is a big investment for any home or business, the intense heat and torrential downpours we experienced this past summer, many people are noticing their roof needs attention.
Leaks: Most of the time roof leaks are not very noticeable. You may notice stains on the walls, they can be inside or outside, they can look like streaks on the outside walls that start at the roofline and go down. Ceiling stains which can indicate pooling water or leaks.
Poor Workmanship and Materials: Whether it is poor quality materials or workmanship leads to a non-efficient roof. That ends up breaking down, warping, shingles curling, granules falling off, leaks and a much shorter lifespan.
It's important to have a local professional replace or repair your roof. Quality materials, the right tools, and experience make all the difference.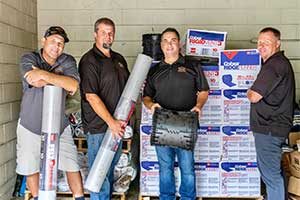 The materials you choose for your roof are important: It can make the difference in your roof lasting 10 years or over 20 years. If you have to make several repairs or pay more in energy costs.
Quality of the installation also comes into play: Choosing a subpar company to replace your roof can end up costing you more in the long run. High quality shingles are designed to stand up to Florida's extreme weather, even hurricanes.
Finding any type of damage to your roof can be alarming, but having a trusted roofer can make it easier. As a leader in the industry, our goal at Schick Roofing is to repair any water leaks in your roof and install new roofs that can stand up to the wear and tear of the Central Florida harsh weather for decades.
Schick Roofing is proud to be one of the few roofing companies here in Central Florida who have earned the GAF Master Elite contractor certification. It is such a distinguished achievement that only the top 3% of roofers throughout the country have obtained such an accomplishment.
The professionals at Schick Roofing can help you make the best cost effective solution for your roof. We are proud to offer accurate and honest roof assessments at an affordable price.
Contact Schick Roofing today for more information and an appointment.