Windermere & Winter Garden Roofer: What You Need To Know
Repairing or replacing a roof here in Central Florida is a big investment. According to the latest research, the average cost to replace a roof in Florida is between $8,000 and $16,500. For this amount of money you want to make sure it's done right!
When Having Work Done On Your Roof, Consider These Top 4 Improvements
1. The Roof's Ventilation
Ventilation plays a big part in the longevity of a roof. Even in the winter months in Central Florida, attic temperatures can reach over 100 degrees. Ventilation in the roof helps regulate the attic temperatures and reduces moisture accumulation. Consider installing gable and ridge vents to protect your roof prematurely deteriorating.
2. Energy Efficiency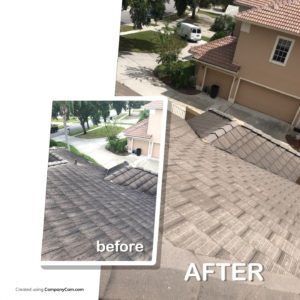 Sure, you want your new roof to look great and match the aesthetics of your home or business, but it should also be energy efficient. Naturally, keeping your home cooler, so your air conditioner doesn't have to work as hard, means big savings!
"A cool roof reflects the sun's energy, reducing rooftop temperatures. While a sunlight-absorbing black roof can reach up to 190°F in the summer, a reflective roof's temperature can be as much as 60°F lower. Dark surfaces also contribute to the urban heat island effect." GAF
3. Low Maintenance Gutters
Today's gutters are designed for low maintenance, clean lines, and internal straps. To ensure water is safely flowing away from the building. Just one inch of rain produces over 900 gallons of water on a 1,500 square foot house. You definitely don't want all that water running down the side of your home, or any where near the foundation of your home!
4. Roof Flashing
Never overlook the flashing on your roof, it is a critical element. It is often the culprit of some serious roof damage. Flashing is necessary to create a tight seal where the roof plane meets a vertical surface. Such as, vents, skylights, chimneys, wall or dormer. It is used to direct water from pivotal areas, as well as keep out moisture and water. Quality flashing should account for the expansion and contraction at these intersections due to the temperatures and humidity.
Is It Time to For a New Roof?
Schick Roofing is proud to be a trusted and reliable roofer in Central Florida. Our outstanding reputation is the result of a lot of hard work and our core values. We believe in Caring, Communicating, and Consistency.
We care about building lasting relationships. Not just about getting more customers, but ensuring they will work with us in the future. Our loyal customers are the reason for decades of success.