Windermere & Ocoee; Looking For A Dependable Roofer?
Dreading the idea of having to replace your roof? You're not the only one! To make it easier, GAF, North Americans largest roofing manufacturer, has made it easy with the newest technology. Combining an eye catching, visual impact with the first energy efficient "cool" asphalt shingle. They come in a palette of beautiful, rich, organic colors, that will save you money!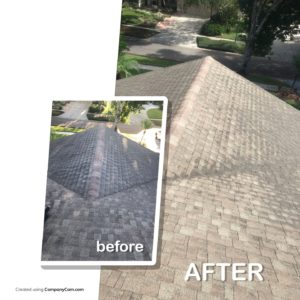 Thanks to modern reflective technology, you can join the green revolution with Timberline® Cool Series® Roofing Shingles. Our highly reflective shingles can help to reduce temperatures in your attic, so your home will stay cooler in the summer — to help save on air-conditioning costs. According to the Cool Roof Rating Council, cool roofs may save homeowners an average of 7–15% on their total cooling costs. A cool roof minimizes the solar heat gain of a building by reflecting incoming sun rays and re-emitting the absorbed energy. Timberline® Cool Series® is an ENERGY STAR®-certified product.
Rebates: Some utility companies may provide incentives for using cool shingles.
Highest Roofing Fire Rating: UL Class A, Listed to ANSI/UL 790.
High Performance: Designed with Advanced Protection® Shingle Technology, which reduces the use of natural resources while providing excellent protection for your home.
Peace of Mind: Lifetime ltd. transferable warranty with Smart Choice® Protection (non-prorated material and installation labor coverage) for the first ten years.
Stays in Place: Dura Grip™ Adhesive seals each shingle tightly and reduces the risk of shingle blow-off. Shingles warranted to withstand winds up to 130 mph.
StainGuard® Protection: Helps ensure the beauty of your roof against unsightly blue-green algae.5
Perfect Finishing Touch: Use Ridglass® Premium Ridge Cap Shingles or Seal-A-Ridge® Ridge Cap Shingles.
Roofs have come a long way in the last couple of years, which type of roof is best for your home or business? The experienced team at Schick Roofing can help by going over your specific needs and how you can save you money.
If you have any questions or would like an estimate, contact Schick Roofing.