Why Are Orlando Residents Choosing Schick Roofing For All Their Roofing Needs?
When it comes to your Central Florida roof, whether it is for your home or business, it is important to know your options. Choose a roofing contractor that is looking out for your best interest and not their bottom line! The material you choose, manufacture, color, and style, all affects your investment and resale value.
Schick Roofing is one of Orlando's most recognized roofing services. With an A+ accreditation from the BBB and GAF Certified. Also, don't forget to check out our reviews on yelp.
But don't take our word for it, just look at our latest Facebook reviews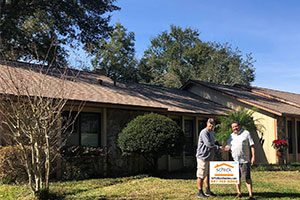 I was impressed from the start when phoning Schick's office; they returned my call quickly that same day to set up the appointment. A few days later, George came out to assess the roof. He was on time, very professional, and provided us with excellent advice. WJS
Very detailed, professional assessment of roof condition and explanation of new roofing options. Timely, clean, quality work delivered at a competitive price. Strongly recommended! Jim M
If you are looking for a roofer, then look no further than Schick Roofing. I did a lot of research into roofing companies and I now understand why everyone in the area referred me to Schick Roofing. Replacing our roof was a big decision, but the staff made me feel comfortable every step of the way. The workers were friendly, respectful, and hard working. Best of all, the project was on time and within budget! Adam L
This was a fantastic experience from start to finish. Worked with Paul the owner who provided expert guidance on all roofing requirements to a Florida new owner. The quote was competitive, the roof installation was quick and efficient even with adverse weather conditions. I was kept up to date on all aspects of the project during the duration and all my questions were answered quickly. Paul also provided a solution to fix gutter issues complicated by the pool screen at the property. Cannot recumbent Schick Roofing enough for all your roofing requirements. Jim Quinn
Wow - could not be more impressed with Schick Roofing. I'm a new homeowner living in my first home with a tile roof. George Dubois came out to do an inspection when I identified we had a slipped tile - George not only accessed the situation, but completely schooled me on the ins and outs of a tile roof - I feel he prevented me from making years of costly mistakes, like - don't pressure wash, don't walk in the valleys and so much more. He was such a wealth of knowledge. My roof is in good shape so I did not need any extensive work done - but if i EVER had an issue with my roof, I would call Schick Roofing - from the moment I called, they immediately scheduled my visit from George, followed up with a reminder day of and George arrived on time, professionally dressed and so easy to talk to - Totally a 5 STAR organization! Thank you. Jim