What You Need To Know About Asphalt Roofing Shingles In Orlando
Though most roofing shingles here in Central Florida may look similar, nothing could be further from the truth. Manufacturers are constantly developing new technology and trends that set shingles apart. The roofing contractor you have replacing or repairing also plays a big role.
What do you need to know about asphalt roofing shingles?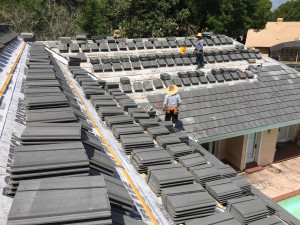 Shingles are made from crushed durable igneous rock, coated with a clay silicate mixture, in which pigment is added, fired at a high temperature, then cured the coating into a ceramic.
These granules add a unique depth and visual appeal, they are also the source of color and add to the longevity, durability, and UV protection.
What makes GAF Timberline shingles the best value in roofing today? They offer the right combination of beauty, performance, and reliability.
Great Value: Architecturally stylish but practically priced — with a Lifetime Limited Warranty1
Dimensional Look: Features GAF proprietary color blends and enhanced shadow effect for a genuine wood-shake look
StainGuard® Algae Protection: Helps ensure the beauty of your roof against unsightly blue-green algae2
WindProven™ Limited Wind Warranty: When installed with the required combination of GAF Accessories, Timberline® HDZ™ Shingles are eligible for an industry first: a wind warranty with no maximum wind speed limitation3
LayerLock™ Technology: Proprietary technology mechanically fuses the common bond between overlapping shingle layers
Up to 99.9% nailing accuracy: The StrikeZone™ nailing area is so easy to hit that a roofer placed 999 out of 1,000 nails correctly in our test4
Stays In Place: Our legendary Dura Grip™ sealant pairs with the smooth microgranule surface of the StrikeZone™ nailing area for fast tack. Then, an asphalt-to asphalt monolithic bond cures for durability, strength, and exceptional wind uplift performance
Highest Roofing Fire Rating: UL Class A, Listed to ANSI/UL 790
Perfect Finishing Touch: For the best look, use TimberTex® Premium Ridge Cap Shingles or TimberCrest™ Premium SBS-Modified Ridge Cap Shingles