Trusted Orlando, Dr Phillips, Windermere Residential & Commercial Roofer
The temperature is rising here in Orlando, while it may be great for going to the pool and beach, it isn't so great for your roof. The heat, humidity, and torrential storms can really take a toll on your roof.
Catch issues early can save a lot of money, it just takes a little detective work.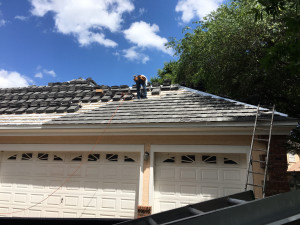 Heat
The intense summer heat in Central Florida can be brutal! Can you imagine being outside all day with the sun beating down on you without any relief? Unfortunately, we can't coat our roof with sunscreen. Instead, we need to be mindful of the subtle deterioration on your shingles caused by the sun. Such as dryness, cracking, curling, and breakage.
Humidity
With the heat comes humidity! While our beautiful vegetation may thrive in our humid environment, it wrecks havoc on our roof. All that humidity builds up weakening the system.
"Moisture vapor created in the home can be absorbed by the roof deck, causing it to expand and buckle shingles as the spaces between sheathing panels become smaller. Moisture vapor can also enter the home from outside. Improper attic or roof venting practices can cause moisture from hot, humid, outdoor air to condense on roof framing," International Association of Certified Home Inspectors.
Thunderstorms
Central Florida is known for the intense afternoon thunderstorms. Heavy rain and high winds can lift shingles and cause leaks around flashing. Damage on architectural or dimensional shingles, and textured roofing is often times very difficult to notice. Hail can cause dents in shingles, if these dents are hard and deep enough they can damage the waterproofing layer underneath. While these dents are not very visible, they can allow water to drip through to the attic, causing water damage.
It is important to regularly inspect your roof and repair any damages before they become big problems. Take some of the stress away by having someone you know and trust to call.
As a leader in the industry, Schick Roofing provides Dr. Phillips and Southwest Orlando with both residential and commercial roofing services, we are a trusted roofing service in Florida.
We value every customer and offer appropriate, accurate and affordable long term solutions. We never have any hidden fees.
Contact Schick Roofing for more information and a quote.