Should You Repair or Replace Your Orlando Area Roof?
Has your Orlando roof seen better days? Do you need to have your roof replaced or just repaired? It can be overwhelming to think about, but don't worry, Schick Roofing is here to help you through the decision making.
It is important not to put off roof repairs, it is your home first defense against Central Florida's harsh elements. Here is a quick guide to help you figure out your next steps to take.
Does your roof need to be replaced?
Since climbing on your roof can be very dangerous and it can worsen existing damage on your roof, take these steps to assess your roof.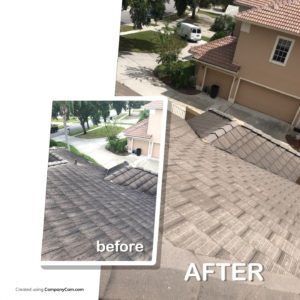 Outside
Walk around your home and look for any visible damage, possibly from a storm or hail. Also look for any debris, such as tree limbs or leaves.
Check for any missing shingles, curling or cracked shingles. Any sagging or peeling of exterior paint.
Inside
Look in the attic during the day for any outside lighting, this indicates a breach of some type. Also look for any visible damage to the joists or rafters. Notice the smell in the attic, is there an odor of mold or moisture?
Inside your home, look for any peeling paint on the walls or water stains on the ceiling.
What happens if you don't replace or repair your roof?
If you notice any signs of damage, don't ignore them or put them off for another time, these types of problems just get worse- and more expensive to fix- with time. Eventually, that little bit of water damage leads to mold, deteriorating wood, and the integrity of your home.
Waiting too long also puts you at risk of losing out on your warranty or insurance coverage, which, if you had acted immediately you may have been eligible for.
What Are the Advantages of a Roof Replacement? According to GAF:
A new roof is more than a new layer of shingles. It's a comprehensive roofing system that's built to last. During an installation, it is recommended that trained contractors completely remove the existing roof and create a weathertight series of layers from the decking up. A trusted pro will likely recommend installing crucial components like drip edge, flashing, underlayment and leak barrier to help lock out future leaks.
New roofs can also qualify for enhanced warranties. One option is the GAF Roofing System Limited Warranty available when three or more qualifying GAF accessory products are installed with any GAF Lifetime* shingle. Another advantage of a new roof is the opportunity to upgrade your curb appeal. You can choose exactly the color or style—such as architectural shingles—that you've always wanted for your home.