Hunters Creek & Ocoee Roofer; Don't Get Taken By Hidden Fees
There is no shortage of roofers here in Orlando, which makes choosing the right one difficult. Should you choose the least expensive one and hope for the best, a quality job with no hidden fees, typically doesn't happen. Your roof is too important to leave up to chance!
At Schick Roofing, we have a policy of no hidden fees. This helps to build and maintain trust with our customers, set appropriate expectations for the project, and ensure you are happy with the end result.
So, Where Do Some Roofing Companies Hide Fees?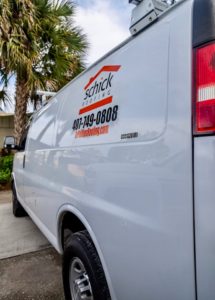 Unexpected extra fees often show up when there is an open-ended contract. Many times, an open-ended contract is pretty much a guarantee that the expenses are going to end up being higher than originally quoted. Some roofing companies will use open-ended contracts to low-ball homeowners into choosing their company, knowing that they will be just as costly or even more costly than the competition by the end of the project.
Talk with your roofer about extra costs associated if damage is discovered on the roof that will need to be repaired. These potential extra costs should be mentioned in your contract.
An experienced roofer will be able to identify spots on your roof that may be damaged but aren't visible from the outside.
Is a Professional Roofer Necessary?
It can also be very tempting to save money and go with a friend or family member who offered to re-roof your home on the cheap. Unless that person is licensed and insured, it's best to not take the chance. You may save a bit of money, or you may end up spending a lot more money and time because the people doing the work are uneducated and inexperienced or get injured while working on your home.
Roofing contractors in Florida are required to undergo two exams: business and finance and trade. In order to even apply to take the test, contractors must have at least four years of experience and a 4-year construction related degree from an accredited college or university. There are also liability insurance minimums that must be met. In short: it's not an easy process, but it's organized that way for a reason.
Licensing ensures that you can trust that the contractor is experienced in all areas of residential roofing and kept current with the latest roofing technologies, industry rules, and regulations. If there is a problem with the workmanship, a license also gives you legal discourse to pursue the matter in court. Liability insurance ensures that if one of the workers is injured while working at your home that you don't have to pay for his or her medical care.
Contact Schick Roofing today for an honest estimate about a new roof or roof repair for your home. We believe our work and satisfied customers speak for themselves.
As the owner of Schick Roofing and license holder, Paul Schick comes to each and every job to ensure its smooth progress and high-quality service.