Repairing Orlando Roof Damage From This Week's Hail & Storms
Severe storm this week brought strong winds and even golf ball size hail, much were over 2 inches in diameter. These storms were expected to damage trees and roofs in the Central Florida area.
The Storm Damage Center list some important facts about hail damage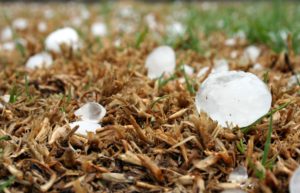 Hail causes approximately $1 billion in damage annually in the United States to houses, buildings, cars and crops. The costliest hail storm in US history caused an estimated $2 billion in damage.
Large hail, the size of a tennis ball or larger, can fall at speeds faster than 100 miles per hour and can batter rooftops, shatter windows and "total" automobiles.
Hail damage, like other types of storm damage, is classified as an "Act of God". As such, you cannot be singled out by your homeowners insurance company for a rate increase because you filed a claim. Insurance companies can increase premiums for everyone in an area that is susceptible to storm damage though, so use your insurance if you have hail damage.
Roofs are the most commonly damaged part of a home or business when hail storms hit. Hail damage to roofing can be difficult to detect and the longer you leave hail damage un-repaired, the more damage can occur as water leaks through the roof and into walls.
On an asphalt roof, hail damage looks like a dark spot, or bruise, where the roofing granules have been knocked away. In some cases you may find holes, cracking, or missing shingles on roofs with hail or storm damage.
This can result in leaking and serious water damage, which can lead to mold formation and wood rot, which can compromise the structural integrity of your roof resulting in collapse. In severe wind storms, it is common for shingles or sections of the roof to be missing altogether
Poor quality contractors and scammers can cause permanent damage, devalue your property, steal your money and put you at personal, legal and financial risk… not to mention all the headaches
Find a roofer you can trust. There are a lot of contractors in the Central Florida area, but not all of them are the same.
At Schick Roofing, integrity and a high standard work ethic is paramount to our business and the way we treat our customers. Direct customer testimonials say it all.
We are proud to be a GAF Master Elite Certified, have an A+ BBB rating, great reviews, licensed and insured. We're happy to provide estimates and take the time to show you and explain any damage to your roof before asking you to sign anything.