Read This Before You Replace/Repair Your Orlando Roof
Your roof is an important element for your home, both aesthetically and protection. As a trusted roofing contractor in Central Florida, Schick Roofing we believe the right shingles can make all the difference.
The right roofing shingles will ensure your roof lasts a very long time, as well as, complement your home's appearance and add value. Factors include, energy efficiency and architectural style of your home.
The last thing you want is skyrocketing energy bills
The color of your roofing shingles can affect the temperature of your home. Easily increasing the temperature in the attic by 20 to 40 degrees. Which can significantly increase the cost to cool your home.
Light brown or tan shingles are great at reflecting sunlight and keeping your home cooler, when compared to black or dark grey shingles.
What color shingle will compliment the elements of your home?
Gray shingles work well with a blue or gray building.
A mix of tan or brown shingles match a tan or brown colored home.
Dark grey gives a white house a traditional look.
What color shingle will add value to your home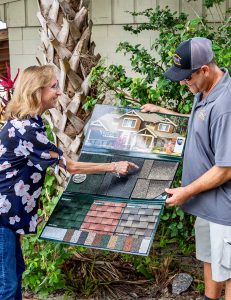 Neutral colored shingles seem to always stay in style and have a high resale value.
For a more modern feel, choose a shingle that has a combination of similar tones.
A shingle that is a similar color to your home will hide any defects. While a shingle that contrast your home will highlight any features.
If you are looking for a trendier colors consider GAF American Harvest or GAF Designer Shingles
The Importance of having Sufficient Attic Ventilation
Whether it's the intense summer humid heat radiating down through your ceiling, increasing the energy and cost to keep your home cool and comfortable. Or, heat getting trapped in the attic in the cooler months, creating condensation and the possibility of mold.
Choose a Roofing Shingles that are Durable and will Lasting a Long Time
When properly installed, roofing shingles are a very durable material that can protect your property from the Central Florida elements for about the next twenty years. The exact lifespan depends on the quality of installation and the grade of shingle.
For instance, GAF, North America's largest roofing manufacturer, offers several types of shingles, from Timberline with a lifetime limited warranty (the #1 selling shingles), Designer shingles with exceptional durability and luxury, Impact-Resistance & Cool/Reflective shingles for specialty performance, and Three Tab shingles which are easy on the wallet. Higher end shingles tend to have better wind resistance rating and have a longer lifespan.