Quality Orlando Area Roofer At An Affordable Price
When replacing the asphalt shingles on your Orlando area roof, it can be difficult to know what type of shingle to choose. Should you just go with whatever a roof tells you, or do a little homework and choose for yourself?
GAF, North America's largest roofing manufacturer, offers high quality roofing systems with great warranties for your peace mind.
More than just a great looking roofing shingle, with dependable performance, state of the art technology, and advanced protection, they add value to your home. They are also the number one selling shingles in North America, with the Good Housekeeping Seal and the Women's Choice Award.
Why Choose Timberline American Harvest Shingles from GAF?
The advanced optimized construction and color application techniques adds a beautiful dimensional look.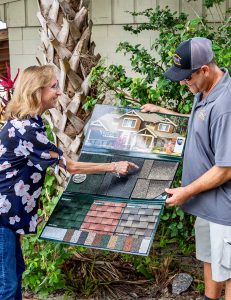 Custom designed color palette, with colors from the Heartland of American, to compliment your home's exterior style.
Highest fire rating, class A, from Underwriters Laboratories.
High performance for superior protection and stain guard protection to ensure your roof looks beautiful, guarding against unsightly stains and blue-green algae.
Equipped with Dura Grip Adhesive seals to reduce the risk of shingles blowing off the roof, even during hurricane strength winds.
Not only are they architecturally stylish, they are affordable and have a lifetime warranty.
Timberline American Harvest Shingles come in a variety of colors. "Designed to complement your home's exterior color scheme, the American Harvest Collection will give you that modern architectural style you want, at a price you can afford! Its custom color palette, designed exclusively for GAF by color industry expert Patricia Verlodt, features subtle blends with contrasting colors that are designed to enhance your home's exterior and give it unexpected depth and beauty. Nantucket Morning cool gray tones, compliments yellow based brick, browns, and beiges," GAF
Golden Harvest incorporates chocolate hues, tangerine, and light blue, for a warm light color roof.
Cedar Falls is a subtle brown with gray highlights for a polished look.
Appalachian Sky gives your home a touch of serenity with a variety black, brown, and dark grays.
Midnight Blush rich warm hues of brown, gray and terra cotta, for a sophisticated presence.
Amber Wheat full of warm tones, beiges, off white and grays.
Whether it is for your Central Florida home or business, it is important to choose a reputable and honest roofer.
As a leader in the industry, Schick Roofing provides Dr. Phillis and Southwest Orlando with both residential and commercial roofing services. We value every customer and offer appropriate, accurate and affordable long term solutions. We never have any hidden fees.