Orlando's Trusted Roofer; Repairs, Cleaning & Replacement
Roofing shingles and tiles take a real beating here in Central Florida. Nails give out, adhesive backing losses its ability to stick, leaving the underlayment and insulation open to the elements. This causes roof leaks, weatherproofing damage, structural damage, and dry rot. It just takes a small exposed area to allow moisture into your home.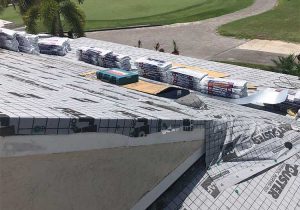 This unwanted moisture not only damages the roof, it allows the insulation to get wet, floorboards, structural beams, and even the foundation gets damaged, cracks, and cause significant damage to your home.
Hot and dry weather conditions cause the weatherproofing and adhesive layers to stretch, condense, and wear away at the layers.
After being exposed to direct sunlight, dry air and rain, these layers are not able to do their job of protecting your roof.
Just imagine how much heat your roof gets everyday. Roofing shingles dry out and crack, becoming weak. Excessive moisture causes them to expand without pliability, making them vulnerable to breakage.
When was the last time you had your roof cleaned? Not only does cleaning your roof make it more aesthetically pleasing, but it will also catch any issues. Those dark areas or lines on your roof are from fungus and algae. These organisms have root like tentacles that penetrate deep into the roofing shingles for nourishment. Which can also lead to expensive repairs.
If you're not sure your roof is in need of repairs or replacement, Consumer Reports says, "Before you risk life and limb on a ladder, we recommend you stay at ground level and use binoculars to spot cracked, curled, or missing shingles—often signs that your roof is in need of repair or replacement."
They go on to warn property owners, "If you have an existing leak, or suspect you need a new roof, we strongly recommend consulting a professional roofing contractor. They are trained to assess damage and make recommendations on materials, and they're equipped with proper safety gear."
The professionals at Schick Roofing have your best interest at hand. We protect you, your home, and wallet.
You can count on the experienced technician at Schick Roofing to give you an honest and affordable solution. At Schick Roofing we assist our clients in selecting the best roofing materials for their home or business. From the style, specific requirements, aesthetics of the property, to the budget, we ensure you get the highest quality workmanship and value for your money.