Orlando's Trusted Roofer; Helping You Through The Crisis
While the Coronavirus has seriously impacted the way we conduct business, we have adapted with the necessary safety procedures. Thankfully, the team at Schick Roofing has been working day and night to ensure our customers are protected, with roof inspections, repairs, and replacements.
When it comes to roof inspections, we can accommodate your appointment preferences.
Whether it's talking over the phone, wearing appropriate personal protective equipment, or simply meeting outside your home.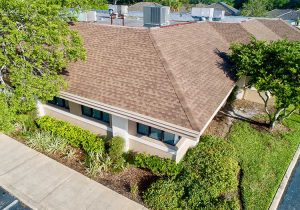 If you don't want to meet in person, we respect your decision. Our inspection process uses a host of visual technology to accurately exam your roof.
We can also safely gain access to your roof without entering your home. Rest assure, we take the extra measure to clean and disinfect all of our tools, gear, and personal protection equipment.
Our highly trained technician at Schick Roofing are able to diagnose any damage to your roof and repair it without meeting or speaking to you in person.
All of our team members are in compliance with the CDC guidelines and OSHA standards.
Through it all, our mission remains the same: providing the highest quality materials and craftsmanship, with the best customer service. If there is any way we can help you through these difficult times, please reach out to us. We are here to serve you.
The Earlier You Repair a Leak, The Less It Will Cost
If left unattended, roof damage can easily result in costly repairs. Whether it is failed flashing or a roof leak, it can result in insulation replacement, extensive mold remediation, and even structural damage. It also results in higher material and labor charges.
Financing Available
Taking care of your family and loved ones, shouldn't mean neglecting your roof. Especially, right before hurricane season. We offer instant, paperless financing on roofing services with credit decisions in less than a minute. With these paperless financing options, you have the ability to see the terms and details of a loan as well as make payments electronically.