Orlando/Windermere Roofer; Gutters Installation
Your roof is easy to forget, until you have a problem. Which is why staying on top of routine maintenance and knowing a qualified roofer you can trust comes in handy.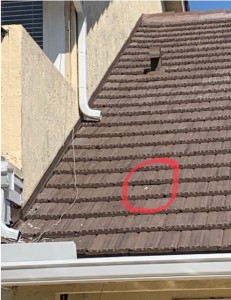 Downspouts and gutters are an important part of your roof. They are designed to divert rain water away from your home or business. If you've ever experienced a roof leak, you know it only takes a little bit of water to cause a significant amount of damage.
For instance, in a typical afternoon thundershower in Central Florida a 2,000 square foot home has about 1,200 gallons of rain water streaming down the roof. It just takes a few drops going in the wrong direction to cause damage.
Gutters that are functioning properly will carry all this water through a downspout and far way from your home. Unlike the picture on the right, where the gutter is not properly installed, allowing additional water to pour on the roof, it is just asking for trouble!
Or gutters that allow water to pour down the side of your walls or to pool around the foundation. This causes cracks in the foundation, erosion, deterioration or mold in the shingles, and damaged to the walls.
Water allowed to stand on your roof for any amount of time can cause moisture to enter the house and the wooden fascia boards to rot. Not to mention creating the perfect breeding grounds for insects and mosquitoes and mold, which can lead to health issues.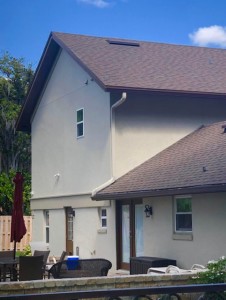 Inadequate gutter systems, improperly pitched gutters, clogs, sagging, damaged, corroded gutters, or leaking joints, can all cause serious damage and need to be addressed.
The picture on the left is the gutter was properly installed
Schick Roofing customers can rest assured your roof is taken care of. We provide quality workmanship and material warranty to stand by our final roof product. Peace of Mind
Whether your roof has damage, leaking or showing signs of age, the professionals at Schick Roofing can help you make the best cost effective solution for your roof. We are proud to offer accurate and honest roof assessments at an affordable price.