Orlando Trusted, Local Roofer For Repairs Or Replacement
Is your Orlando area roof in need of repairs or replacement? You need a roofing company you can trust. Should you choose a trusted local company or a big national brand?
As a leader in Central Florida, Schick Roofing gives you the best of both: Discounts a large national brand can offer, and all the benefits of a local company.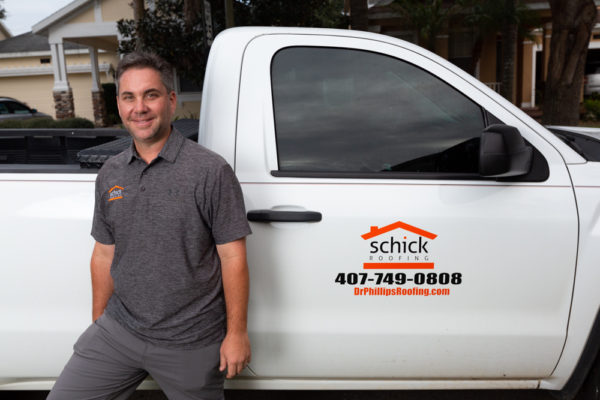 Area Familiarity
Local roofers understand the area and the environment. This can be seen in the quick response times and friendly customer service. A local roofer will have knowledge of which type of materials holds up better in Florida's heat and humidity, as well as high winds and storms. They will also know the building codes in the area and other challenges.
For instance, some roofers still use traditional felt roofing underlayment, while at one time this was considered a good way to protect a roof against the elements, the advancements in technology, has led the way to synthetic underlayment, Designed to aid in the ventilation process and prolong the life of your roof.
Traditional felt underlayment is susceptible to shattering when secured with the impact of a nail gun. When a nail penetrates synthetic underlayment, it seals around it, providing superior waterproofing and significantly extending the lifespan of your roof.
Verifiable Reputation
Reputation is everything for local roofing companies. Schick Roofing has spent years building a quality reputation in the community. We start with a competitive price, friendly customer service, and quality work by knowledgeable professionals.
Buy Local
You support your community when you use local-based companies. Here at Schick Roofing we believe it is important to:
Evaluate the customer's specific roof requirements and budget.
Recommend an appropriate, accurate, and an affordable long term solution.
Manage the customer's expectations before and throughout the entire install process and never have any hidden fees.
Finding any type of damage to your roof can be alarming, but having a trusted roofer can make it easier. As a leader in the industry, our goal at Schick Roofing is to repair any water leaks in your roof and install new roofs that can stand up to the wear and tear of the Central Florida harsh weather for decades.