Orlando Roofing Contractor, GAF Master Elite Certification
When your home or business in Orlando, Dr Philips, Windermere, has roof damage, needs repairs or replacement, it can be difficult to find a qualified and licensed contractor who you can trust.
Schick Roofing is proud to be one of the few roofing contractors in Central Florida to earn the GAF Master Elite Certification. Ensuring the highest standards and reputation in the roofing industry.
"Master Elite® Certification is GAF's factory certification program that provides ongoing training to roofing contractors and assurance to you that the roof will be completed well and professionally. Only 3% of all roofing contractors have qualified as Master Elite® Choosing a GAF Master Elite® contractor is your assurance that you'll be dealing with a quality, and dependable professional contractor not some "fly-by-nighter"."
But lets face it, word of mouth is still one of the best ways to find a trustworthy roofer, one that is affordable, does quality work, and truly cares.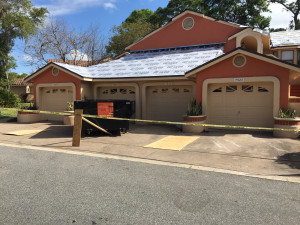 Schick Roofing is a local company that was referred to me by other satisfied customers in my neighborhood. I found the company to be very customer focused and they responded very quickly to every concern I expressed. Jason was very good at performing the estimate and acting as the major contact. The team of roofers they sent to my house were very efficient, worked very hard, and completed the job very effectively. I would gladly recommend them to anyone needing a new roof. Scott Rohlf
I could not be anymore pleased with the services provided by Paul Schick and his team. Paul gave a detailed and well-explained estimate to me after inspecting the roof and noting the issues that had led to the leaks we had. He gave me some options on how to replace the roof and explained the benefits of each. The office staff was prompt to complete the contracting and permitting requirements and a job that was estimated to be completed in three days was done in two. The roof looks great and the crew did an outstanding job of clean up after the job was complete.Between the great work, attention to detail, and outstanding warranty, I am a very satisfied customer and could not recommend Schick Roofing enough. Dee Rodriguez
Excellent service and roofing work from start to finish. Very professional and friendly from our first inspection with Jason, Sue in the office was wonderful and helpful. Kevin came out with shingles and was very knowledgeable and helpful. Jason was available and checked in my roofs during the work (I had two replaced, back to back) I would highly recommend schick roofing to anyone. No issues what so ever, great work and friendly knowledgeable staff. Suzanne Byron