Orlando Roof Repair Or Replace; Best Deal At The Best Price!
Whether your Orlando area home or business roof needs repairs or a replacing, it is an investment worth doing a little bit of homework on to get the best deal at the best price.
The fact is, the roof plays a critical component of every building, from the structural integrity, to preventing interior damage.
Choosing the best contractor isn't always easy. The industry itself can be a confusing market. Just because you see a commercial or find them on the internet doesn't necessarily mean they are a reputable contractor. Making a decision just because of the low price, generally means you will get poor quality workmanship and products.
What credentials set roofing contractors apart?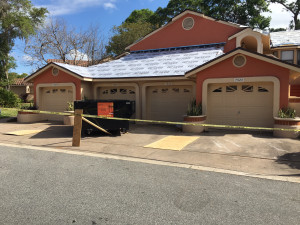 That's easy, make sure your contractor has a GAF Master Elite Roofing Certification. In business since 1886, GAF is North America's largest manufacturer of commercial and residential roofing materials.
Their products are ranked #1 by third party associations, home owners, and even contractors.
GAF understands the gap in today's contractors. Which is why they have made it easier for consumers to know they are hiring a roofing contractor who is qualified, has the expertise, provides exceptional service, and use the highest craftsmanship, and superior products.
Why you should hire a GAF certified roofer?
GAF takes the guesswork out of hiring a roofing contractor. GAF certification has very high standards and is very demanding. Will will know the roofer is fully licensed and carries adequate insurance for the customer's protection. They will have an excellent reputation from both their customers and throughout the community. They will have the latest techniques and technology through a commitment to ongoing education.
Their trusted work has access to exclusive and longer warranties, as well as advanced products. Saving you in the long run from common roof problems and costly repairs.
Schick Roofing is proud to be your local GAF Master Elite Roofing Contractor, contact us today for an appointment.