Orlando Roof & Gutter System Maintenance & Replacement
Your roof protects your Orlando home from thunderstorms, winds, rain, and the intense heat. The roof is made up of several components, working together to protect you and your family. Gutters play a big role in the roofing structure and should never be ignored.
How are your roof's gutters? Do they need maintenance or replacement? Here are five signs to look for: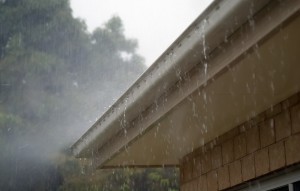 Gutters have the job of taking water from the roof and away from your home. It's an important job, when water is allowed to stand on the roof or pool near the foundation, it can cause serious problems.
When gutters are not attached correctly or pulling away from the roof, they are not performing properly. Which means they need to be maintenance or replacing.
Finding screws or nails on your lawn without an obvious reason, typically means they came from your roof, or more precisely your gutter. Which in turn means they need some attention.
Gutters that or poorly pitched or sagging can also cause problems for your roof. If you haven't cleaned out the gutters in a while, leaves and debris can build up causing them to sag. Rain water backs up and wreaks havoc on your roof, which leads to even bigger problems.
Our heat and humidity can cause decay, cracks, rust areas, and age, all takes a toll. Sections of the gutters separate, fasteners become broken or missing all together,. So, instead of water flowing down the gutter system like it is suppose to, it runs down the walls, causing a host of other problems.
When rain water is allowed to pour down the side of your home or to pool around the foundation it can cause cracks in the foundation, erosion, deterioration or mold in the shingles, and damaged to the walls.
Your roof is a big investment
Being proactive and taking care of your roof will add to its lifespan and reduce repairs. Our goal at Schick Roofing is to provide affordable and professional roofing service to both residential homes and commercial business throughout the Dr. Phillips and Southwest Orlando area. Get an estimate today!