Orlando Roof Cleaning; Why Choose a GAF Factory Certified Master Elite Contractor
All of our rain and humidity here in Orlando create the perfect condition for mold to grow on your roof. You say, what's the big deal, it's just a little mold. But it just takes a little bit of mold to damage your roof, generate costly repairs, and just make your roof look unattractive.
Mold is typically the result of algae growth, moss, and lichens, which all thrive in shady and moist conditions. The problem occurs when the mold sets in and starts to rot your roofing materials.
Roof damage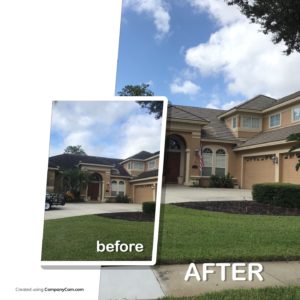 If mold is allowed to continuously feed on your roof, rotting the wood and eroding the asphalt shingles, it can become unstable and require repairs or even replacement. To avoid this, have your roof professionally cleaned and inspected regularly.
The longer mold is allowed to grow on your roof, the harder it is to remove. Every time it rains, some of the mold washes off and can end up getting tracked into your home, which can create health issues.
Curb appeal
Nobody wants an ugly roof, dark streaks are very unsightly. Having a professional clean your roof will boost your home's curb appeal.
Don't just think you can power wash your roof or spray bleach on it, that would do more harm than good. It is important to have a professional roofer uses a 'soft water' cleaning method, which is recommended by the Roof Cleaning Institute of America. The residual effect of the biodegradable solution used to clean the roof will keep it looking great and prevent future algae growth for some time.
Schick Roofing is a preferred Dr. Phillips and Southwest Orlando Roofing Contractor providing the Central Florida area with residential and commercial roofing services. We are now proud to offer our clients with our professional roof cleaning service.
Contact Schick Roofing for more information and a quote.
Why choose a GAF Factory Certified Master Elite contractor, Schick Roofing to clean your roof?
You are ensured the highest quality material and a flawless roofing installation. Which means you don't have to worry about overlooked flashing, loose shingles, or missing drip cap. The best warranties, back by GAF, you can count on for years to come. Trustworthiness and reliability, to preserve the value of your investment.