Orlando GAF Roofer; How You Can Save Money
In last week's blog we talked about repairing your roof yourself. While it may seem like you are saving a couple of bucks now, but it will probably cost you down the road. Having a professional install your roof or make repairs will give you peace of mind the materials are installed right and under warranty.
A few missteps when DIY roof repair include, using the wrong materials, reusing the flashing, and voiding the warranty. Here are a few more:
Underestimating how long the project will take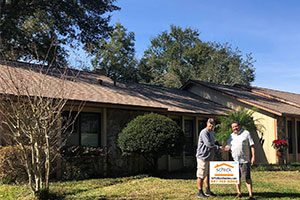 Most DIY projects, such as painting a room or installing a backsplash, can endure a delay without any issue. But if even a small portion of your roof is left exposed to the elements, rain and sun, it can cause damage. A professional will complete the job in a timely manner.
Using incorrect techniques
Having the right equipment and know how is important. Ripping off old shingles without damage existing ones, properly nailing the shingles, proper underlayment, and techniques, all play an important role. Improper installation can compromise the integrity of the roof.
Finding a roofer you trust can be difficult. According to a report by the Better Business Bureau, a shocking 73 percent of homeowners don't trust home improvement contracts. So, for those who feel they are pretty handy and can do the work themselves, GAF has a warning.
They may seriously damage their roof. At their most innocuous, improperly nailed roofs can result in ripples, lifted shingles, and leaks. On the more serious side, there is potential for roof collapse and even bodily harm. A DIYer may have replaced a few shingles here and there, but they need to understand that roof work is a whole different animal.
Improper installations result in so many roofing replacements that manufacturers often won't cover a roof that isn't installed by a licensed contractor.