Orlando/Clermont GAF Residential & Commercial Roofer
Whether your roof is showing signs of age or even leaking, you want the most cost effective solution. And a roofer who will give you an accurate and honest assessment.
This is why GAF, North America's largest manufacturer of residential roofing and commercial roofing, has simplified the process of finding the best roofer.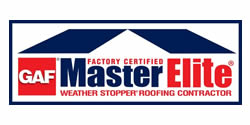 To earn the GAF Factory Certified Master Elite credentials, a roofing contractor needs to adhere to the rigorous demands from North America's largest Roofing Manufacturer. By demonstrating the highest knowledge of shingle roofing, as well as the highest standard of excellence and showcase quality installation of GAF products.
What does it take to become a factory-certified as a GAF Master Elite® contractor:
▪ Properly Licensed
Licensed by their state (or province) to perform roofing work
▪ Adequately Insured for your protection
▪ Have a Proven Reputation
for providing quality roofing services throughout the community
▪ Committed to Ongoing Professional Training to ensure quality installation
Because of GAF's stringent standards, only 3% of all roofing contractors have qualified as Master Elite® contractors!
Choosing a GAF Master Elite® contractor is your assurance that you'll be dealing with a quality, reputable, and dependable professional contractor — not some "fly-by-nighter.
Schick Roofing is one of Orlando's most recognized GAF roofing services. Our goal is to provide affordable and professional roofing service to both residential homes and commercial business throughout Southwest Orlando. Contact us for more information.
Don't forget to take advantage this year's tax credit for your roof, Consumer Report explains;
Roofing materials that meet Energy Star requirements reflect more of the sun's rays and can lower roof surface temperatures by up to 100° F. Qualifying roofing materials include metal roofs with appropriate pigmented coatings and asphalt roofs with appropriate cooling granules. Tax credit: 10 percent of the cost, not including installation, up to $500.
October is Breast Cancer Awareness Month
In honor of Breast Cancer Awareness Month, the family at Schick Roofing encourages everyone to join us in learning more about breast cancer and support those who are suffering with the disease.
Though we have made great progress in early detection, cancer treatment and finding a cure, we still have a long way to go.