Ocoee, Lake Nona, Winter Park Roof Inspections & Repairs
We take precautions for our car, home appliances, and even our plumbing pipes, to ensure they are in good working order. Often overlooked is our roof, which can lead to costly damages, especially as we head into hurricane season.
Your roof protects your home and family from the elements. It is even responsible for keeping your home energy efficient and cool in our hot summer months. Which is why it to your advantage to keep it in tip top shape. The best way to do this is with a roof inspection.
When is it time for a roof inspection?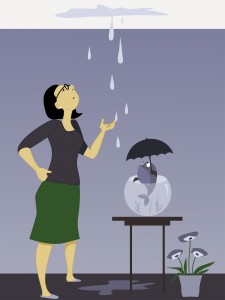 The most popular type of roofing material here in Central Florida are shingles. Which has an average lifespan of about 20 years.
Routine roof inspections will help keep the cool air inside and the hot air outside, cutting down on the electric bill. It also reduces those unexpected leaks.
It is a good idea to have your roof inspected before storm season sets in and after a major storm or hurricane. Catching a small issue before they become big problems can definitely save you in the long run!
A roofing systems here in Central Florida take their share of wear and tear! Be on the look out for curling or cracking shingles, dents or missing granules. The extensive sun exposure roofing material gets everyday make them brittle and susceptible to breaking.
Look for any dark streaks or areas on your roof, this typically means excess moisture or algae build up. Which can be detrimental to your roof and wallet.
If you are comfortable, check the attic for any holes. If you check on a sunny day, you shouldn't be able to see sunlight peeking through.
The easiest way to save money on your roof is to have it inspected on a regular basis, it is like having an annual check-up. During the inspection all the components of your roof will be examined to ensure it will last for many years.
Schick Roofing is also proud to be one of the few roofing companies here in Central Florida who have earned the GAF Master Elite contractor certification. It is such a distinguished achievement that only the top 3% of roofers throughout the country have obtained such an accomplishment.