Hunters Creek, Ocoee to Clermont; Find A Roofing Contractor You Can Trust
Finding a good Central Florida roofing contractor is key to peace of mind and a quality finished product. Choosing a roofing contractor is a big decision, it typically requires a financial investment and can mean the difference between a beautiful, sturdy finished product and a roof that needs repair or replacement again soon.
Feeling comfortable and secure in the professionalism and competence of the team that you hire is vital to a positive experience and can be even more important than finding the cheapest price.
Looking at customer reviews is always a good place to start when choosing roofer. Here are just a few of Schick Roofing's latest reviews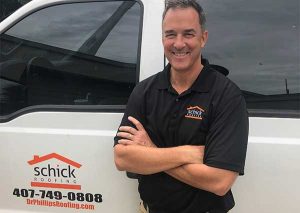 Without Question the best experience I have ever had with a roofing service and I have had many roofs repaired/replaced over the years. The total staff( from the front office to the installers) is top notch. Will definitely call them again for any roofing needs. Richard Senese
We had an amazing experience with Schick Roofing. From start to finish they were professional, responsive, and efficient.
Thank you for making our new roof experience a smooth and easy process! Danielle Anderson
I've used a few different roofing companies for several of my properties, and Schick was by far the best in terms of professionalism, easy to work with, follow up, communication, and overall quality of work. They completed my roof 2 weeks after my initial estimate meeting and the roof was completed in 2 days. Having kids who play in the yard, their thorough clean up and extensive sweep of the yard for nails was unlike any I've ever seen. I chose this company because of their numerous 5 star ratings and there is a reason for it. They are amazing. Kris Boyce
At Schick Roofing, we are committed to ensuring that you have a positive experience. Paul Schick himself inspects each job daily so that you know you are receiving the highest quality work in Central Florida.
Contact Schick Roofing today for an estimate and to learn more about our process.