How To Find An Honest & Reliable Roofer In Orlando
Does the thought of repairing or replacing your Orlando roof make you worry? How much will it cost? How do a find a reputable and honest roofer who will offer affordable solutions?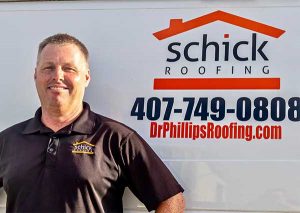 "Some home repairs, you can put off indefinitely. A leaky roof is not one of them. Cracked, curled, or missing roof shingles demand immediate attention. If you neglect them, they can lead to severe water damage that can seriously drain your savings account," according to Consumer Reports: Roofing Buying Guide.
Schick Roofing is proud to be one of the few roofing companies here in Central Florida who have earned the GAF Master Elite contractor certification.
"Manufacturer designations are considered a badge of honor because the contractor must pass certain minimum requirements to be factory-certified (although, some manufacturers have more stringent requirements than others). GAF strictly enforces their top designation by only allowing 2% of roofing contractors per market to be recognized as Master Elite Contractors," GAF
Schick Roofing is one of most respected and trusted roofing company in Central Florida. An A+ rating with the Better Business Bureau and has been accredited since 2009. We have built our reputation on providing our customers with an honest and accurate assessment of their roof and suggest the proper action that will keep their roof functioning at its maximum potential.
Sure, you can try and save a couple of bucks by doing it yourself, but there is a lot that goes into repairing your roof. You need the proper tools, equipment, and know what you're doing. Contacting Schick Roofing ensures your roof is done right and will last for years to come, without breaking the bank
The Schick Roofing family wishes you and your family a safe and happy holidays. Contact us for all your roofing needs throughout the year.
Just a Reminder
When the holidays are over and it's time to take the decorations down, it can be very tempting to just pull it down with a few tugs. Since that can damage the roof, it is worth the time and effort to do it right.