How To Find A Quality Hunters Creek & Winter Garden Roofer
Know your options when it comes to choose a roofing contractor. It's important to choosing one who is looking out for your best interest. The color, style, and material you choose can affect your investment and resale value of your home or business.
Choosing the wrong roofing contractor can be a nightmare. While choosing the right roofing service can save you tons of money and frustration.
Here Are A Few Questions To Ask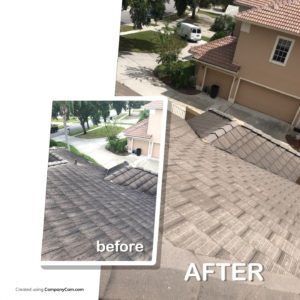 Is the company rated with the Better Business Bureau (BBB)? We've all heard the story on the news, a roofing company came in after a big storm promising to fix a roof for next to nothing, then they either use leftover materials, have poor quality workmanship or worse take the money and run. Do some research and look the company up on the BBB website. Make sure they have an A or A+ rating. If they are not certified by the BBB, don't use them.
Does the company have any manufacturer designations? In order for a company to earn a manufacture designation they must pass stringent requirements to become factory certified. It is often considered their badge of honor. Some manufacturers only allow a very small percentage of contractors to be recognized per market.
Does the roofer have local referrals? Choosing a contractor within your community with local referrals will mean less of a chance of being scammed or getting poor quality workmanship.
Does the company have the proper insurance and licensing? Though a license is required, this does not stop many fly by night unlicensed companies from soliciting work. Not having proper insurance can lead to issues down the road, such as litigation if an accident happens on the job site.
Schick Roofing is one of Orlando's most recognized roofing services. With an A+ accreditation from the BBB and GAF Certified. Also, don't forget to check out our reviews on yelp.