Free Orlando GAF Roof For a Hometown Hero
In appreciation to our teachers, who selflessly sacrifice their time and energy to educate our children, Schick Roofing wants to relieve one of these hometown heroes of the financial stress that comes with needing a new roof.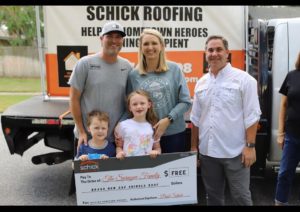 Congratulations to the 2021 Helping Hometown Heroes recipients the Sprague Family who received an overwhelming amount of nominations!
What an honor it is to be able to give back to our local teachers from Southwest Middle and Bay Meadows Elementary that tirelessly help mold our next generation!!! We can't wait to install this roof this week.
Don't neglect your roof!
Be proactive, and remember that minor repairs and expenses can often balloon into very costly and extensive repair. If you have concerns about your roof, or if you are not comfortable checking your roof on your own and would like professional help, we will be more than happy to answer any questions and offer you a roof assessment.
About Schick Roofing
Schick Roofing is a locally owned and operated roofing contractor that has served the Orlando area since 2004. Schick has upgraded more than 3,500 homes with high-quality roof replacement, repairs, maintenance and surface cleaning.
At Schick Roofing our goal is to provide the best materials at an affordable price. We pride ourselves in offering the best customer service of any roofing company in Central Florida. We're so serious about offer excellent service that owner Paul Schick makes daily visits to each and every job, big or small, to ensure that only the highest quality work is being done.
Schick Roofing is proud to be one of the few roofing contractors in Central Florida to earn the GAF Master Elite Certification. Ensuring the highest standards and reputation in the roofing industry.
Schick provides top-notch workmanship with its own team of professionals, providing consistent communication throughout all jobs from initial consultation through cleanup.