Dr Phillips & Windermere Roofer; Replacing vs Repairing
Having a new roof installed in Orlando is a big investment, is it really worth it? Or can you put if off for another year? Unfortunately, delaying the project can put your home at risk of more damage, lead to more costly repairs and even lower the value of your home.
The fact is, replacing your roof at the right time is definitely worth the cost and effort. Here is a list of just a few of the lasting benefits.
Eye catching curb appeal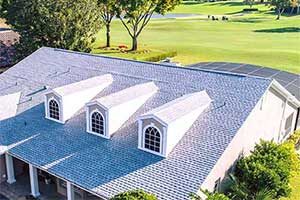 You can't hide your roof. So if your shingles are missing, curled, loose, worn, or old, it will reflect on the rest of the property. Making your home look worn, having a new roof installed will dramatically improve the look of your whole property.
Today's technology has made achieving that custom look easier than ever. When choosing new shingles take into account your exterior colors, architectural style, personal preference, and landscaping.
Boosts your home's value
A new roof adds significant value, with its protection and beauty, especially if you plan on selling the home in the near future. It's natural for home buyers to be more attracted to properties that are well maintained. A new roof has a high return on investment
Improves energy efficiency
Today's technology has created roofing materials that are highly efficient. For instance, passing stringent requirements to earn the Energy Star rating and shingles that instead of absorbing sunlight, reflect it to keep your home cooler during the hot summer months.
This enables your home to say more comfortable all year round without costing a fortune in utilities and your air conditioner won't run all day.
Inadequate repairs
It may be tempting to just repair your roof as it needs it, but this is only cost efficient when the damage is clearly pinpointed. Such as replacing a few shingles that were blown away in a storm.
Safeguard your investment by installing long lasting and high performance roofing materials
Find a roofer you can trust
There are a lot of contractors in the Central Florida area, but not all of them are the same. At Schick Roofing, integrity and a high standard work ethic is paramount to our business and the way we treat our customers. Our customer testimonials say it all.
We are proud to be a GAF Master Elite Certified, have an A+ BBB rating, great reviews, licensed and insured. We're happy to provide an estimate and take the time to show you and explain any damage to your roof before asking you to sign anything.