Does Your Roof Need Repairs or Replacing? Save Money With A Trusted Professional
Are you debating repair or even replace your roof yourself? Even if you are a an experienced handy person, your roof is a very important structure of your home, protecting you and your family.
Benefits of Hiring a Professional Roofing Contractor
Cost Effective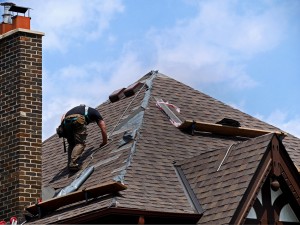 For what it would cost to purchase the roofing materials and proper tools, a professional roofer could have done it for less. A professional will already have the tools and buys materials for in bulk, saving time and money.
Quality Materials
The quality of the materials and knowing which material to purchase may be half the battle. An experienced roofer will know the best material for your roof and the best place to purchase them.
Repair the Problems or Replace the Roof?
The experienced roofer can easily save you money by knowing what can be salvaged and what can't (especially if your home is older). Your roof may just need a few repairs instead of replacing. Schick Roofing provides inspections to determine your roof's remaining life expectancy and assessment.
Quick and Safe
Working on the roof can be dangerous. In fact, "Falls remain a leading cause of unintentional injury [deaths] nationwide, and 43 percent of fatal falls in the last decade have involved a ladder," say a team led by Christina Socias of the U.S. Centers for Disease Control and Prevention.
Warranties and Licensed
Professional roofing companies will be licensed and have insurance, protecting both the customer and themselves. They also have warranties for materials and labor.
Schick Roofing customers can rest assured a licensed professional will monitor the removal and installation of every job. We also prove quality workmanship and material warranty to stand by our final roof product. Peace of Mind
Knowing your family and home are protected is priceless!
Whether your roof has damage, leaking or showing signs of age, the professionals at Schick Roofing can help you make the best cost effective solution for your roof. We are proud to offer accurate and honest roof assessments at an affordable price.