Does Your Central Florida Roof Have Missing or Damaged Shingles?
Having damaged or missing shingles on your roof can be frustrating. You may be contemplating replacing them yourself or have a professional come in and do it. What will it cost? How much work is involved?
It is important to understand that putting off any damage to your roof, makes a bigger and more expensive problem. Damaged or missing shingles make your roof vulnerable to the elements.
Insider tips from experts: Repair damaged shingles ASAP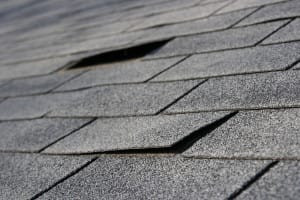 "Some home repairs, you can put off indefinitely. A leaky roof is not one of them. Cracked, curled, or missing roof shingles demand immediate attention. If you neglect them, they can lead to severe water damage that can seriously drain your savings account," according to Consumer Reports.
It is easy to forget about your roof, but like everything else, it needs routine maintenance to keep in tip top shape. What happens when shingles are damaged or missing?
"You don't have to wait for leaks to appear before you consider repairs to your roof, though. Missing, damaged, or curling shingles can all be signs of leaks to come. And the age of your roof itself can be a guide—homeowner's insurance companies generally assume an asphalt shingle roof will last about 20 years, and some insurers won't provide coverage if your roof is older than that."
The rain from our afternoon thunderstorms here in Central Florida starts seeping into your roof. Which in turn drenches the insulation and weakens the structure.
It doesn't take long for our intense heat can wear down layers of adhesive and weatherproofing. Which leaves your roof unprotected.
"Once a leak develops, it can do serious damage to the wood sheathing beneath the shingles. And if that sheathing becomes warped or rotted, replacing it can add several thousand dollars to the overall cost of your new roof when you do get around to replacing it.
Whether your roof has damage, missing or curling shingles, the professionals at Schick Roofing can help you make the best cost effective solution for your roof. We are proud to offer accurate and honest roof assessments at an affordable price.