Does Your Central Florida Home Need A New Roof Or Just Repairs?
Maybe your Orlando roof has seen better days, but do you need an entire new roof? While it may seem more cost effective to make some roof repairs, it may end up costing you more in the long run.
Take a good look at the outside of your roof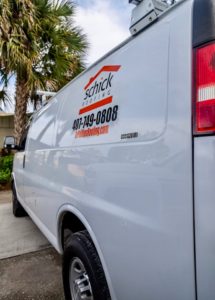 Does your roof have curling or blistering shingles?
Do you see any algae growth on your roof?
Do you notice any broken or missing shingles?
Observe any buckling or sagging in the roof's structure?
Can you see any dark or dirty areas on your roof?
Is the flashing damaged or are the shingles missing any granules?
Also take a good look inside
Are there any spots on your ceiling?
Is there any visible light when you look in the attic?
Is there ay sagging between the rafters?
Do you notice a musty smell in the attic?
If you notice any of these signs inside or outside your home or business, it is time to contact a reputable roofer.
Finding a reputable roofer to repair or replace your Orlando area roof may not be your idea of a fun time, but it is definitely an important one. We see it on the news just about every week, someone taken advantage of by untrustworthy contractor. And those are just the ones we hear about, they are happening everyday in Central Florida.
It's more than just a few shingles protecting that protect your Orlando area home and family from the damaging rain and intense heat. A healthy roofing system includes good ventilation, quality underlayment, flashing, and shingles/tiles that can withstand the Central Florida elements. You want durable materials and expert installation to ensure maximum performance.
But nobody wants to spend a small fortune on their roof, which is why they are turning to Schick Roofing. We are proud to be one of the few roofing companies here in Central Florida who have earned the GAF Master Elite contractor certification. It is such a distinguished achievement that only the top 3% of roofers throughout the country have obtained such an accomplishment.