Central Florida Roof Repair; You Don't Need To Overpay For Quality
The afternoon thunderstorms in Orlando can be very strong, including torrential rain, damaging wind, and even hail. Though roofs in Central Florida are designed for harsh weather, over time, high winds can take its toll. The more damage your roof sustains during previous storms, the less likely it will hold up as well during the next one.
The Hurricane Retrofit Guide by Florida Disaster warns home and business owners: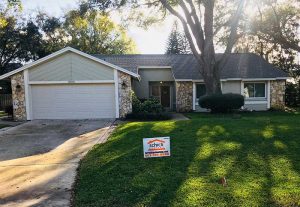 Sooner or later, all roofing needs to be replaced. If shingles are old and worn, patching or limited repairs won't help when a hurricane strikes. If you know how long it has been since your shingles were replaced, that is a good starting point.
While many of the better products come with limited warranties for 25, 30 years or more, the hot sunny Florida climate conspires to shorten that life span.
Ultraviolet rays break down the asphalt used to bind the stone granules to the top surface and heat bakes the shingles causing the components to break down and the shingles to become brittle and lose strength. The standard 3-tab shingles used in the past were typically rated for only 15 years. In addition, most if not all of the older warranties were voided for hurricanes.
The most vulnerable and exposed part of your home is the roof. During a storm, high winds can lift the shingle, breaking the sealing strip. Though the shingle lays back down after the storm and look fine, if it was compromised leakage can occur. Storms can also cause the protective granules to fall off, making the roof vulnerable during the next storm.
Be Prepared Before the Next Storm Hits
It is important to have a roofing company you can trust. Schick roofing is a leader in the industry, we are proud to provide our customers with an honest and accurate assessment of their roof. Unfortunately, roofing materials can deteriorate quickly in the extreme Florida weather, our experienced professionals can guide you through the proper action to help keep your roof functioning at its maximum potential.
At Schick Roofing our goal is to provide affordable and professional roofing service to both residential homes and commercial business throughout the Dr. Phillips, Clermont, Winter Garden, Ocoee, Lake Nona, and Southwest Orlando area.