Affordable Roofing Solution; Hire A Professional or Do It Yourself?
With many of us spending more time at home, DIY projects are higher than ever. But which project should your tackle yourself and which ones should you leave to a professional?
While the thought of saving a few dollars sounds tempting, repairing or replacing your roof takes experience and the right materials. Not to mention difficult and dangerous.
In the long run, enlisting the help from a professional roofer cost less than doing it yourself. Here is why:
Purchasing your own roofing materials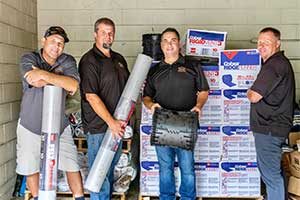 Shopping around for the best deal on roofing materials may seem like a good idea, but it usually ends up taking a lot of time and costing more. A qualified contractor will know exactly how much roofing material you will need, access to better quality materials, at a wholesale price. Along with a manufacturer's warranty.
Choosing the right materials
Not all materials are created equal and some can even cause damage to your roof. The products you choose makes all the difference. For instance, the type of underlayment you choose can determine the lifespan of your roof. Quality synthetic roofing underlayment is a critical extra layer of protection for your home. It prevents rain water and moisture from penetrating under the shingle. Which can cause significant damage to the structure of your roof.
Hire a reputable local roofing contractor
It is important to have a roofing company you can trust and understands our tropical weather conditions. A few ways to check the authenticity of a roofing service is to look for their accreditations and certifications:
Better Business Bureau
GAF Weather Stopper Roofing Contractors
Florida's Association of Roofing Professionals
Central Florida Roofing Association
Florida Licensed General Contractor
Find the Affordable Roofing Solution
The big question, how much will it cost to repair or replace your roof? You can count on the experienced technician at Schick Roofing to give you an honest and affordable solution.
At Schick Roofing we assist our clients in selecting the best roofing materials for their home or business. From the style, specific requirements, aesthetics of the property, to the budget, we ensure you get the highest quality workmanship and value for your money. .