Affordable Orlando Roofing; Best Type of Shingle For Your Home
Having your Orlando area roof replaced and be overwhelming and stressful. There are so many types of asphalt shingles on the market, which one is best for your roof and is affordable?
There are basically 3 types of asphalt shingles. Here at Schick Roofing we want to make the process easier for you. So we are going to explain each type, and going over some key factors such as warranties, lifespan and cost.
The 3 types include 3-tab, dimensional, and luxury.
While 3-tab was once the most popular on the market, dimensional shingles are not giving them a run for their money.
3-tab asphalt shingles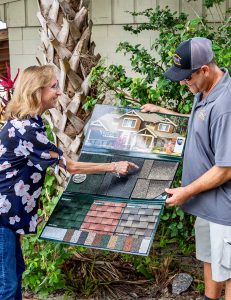 As the name suggests, these shingles have 3 tabs on each shingle, they are the most popular type of roof in the United States. They are also the most affordable and maintain. While there are different types of asphalt shingles, they made up of a sturdy fiberglass base, coated with waterproof asphalt, and tiny granules of ceramic coating mineral.
They typically have a manufacturer's warranty of 25 years and if properly, installed, maintained and with adequate attic ventilation, it should last about 25 years.
Dimensional asphalt shingles
Dimensional shingles have a more random pattern, They may cost a little more, but they have a longer lifespan. For example, Timberline shingles from GAF offer a LayerLock Technology for extra protection, making it the best selling shingle in America.
Timberline offers the best combination of beauty, performance, and reliability, at a very competitive price.
Timberline: A huge color selection, energy efficient and impact resistant options. The Timberline is often the best selling shingle in America with nationwide distribution and a lifetime warranty. It's a solid choice just make sure you hire a competent contractor to install them. They include a lifetime warranty, Duragrip adhesive for wind protection, multilayer design improves durability, great value, and have a great color selection.