Affordable Orlando Roofer You Can Trust
Finding an honest and reliable roofer in Central Florida can be overwhelming. How will you choose the best one that will meet your expectations and requirements. The last thing you want to find out before a hurricane, is that your roofer took shortcuts and had poor quality workmanship.
Here are a few questions to ask the roofer to determine if they are suitable
How long have you been in business?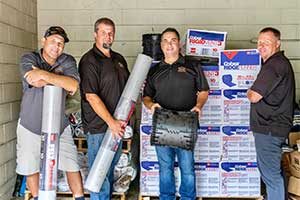 Doing a little homework goes a long way. A local roofer who has been in business for many years, is the best choice. Don't just take someone's word, look them up in the BBB. Make sure their information they give you matches with what you find online. You don't want a company that goes from place to place because of poor quality work.
Do they have the proper license and insurance?
It is important a company has the necessary license and insurance for your city and state. They both should be up to date and active. Without insurance, the home or business owner can be held responsible for any injuries that take place. Which can mean hundreds if not thousands of dollars in medical bills for someone else.
Do they use subcontractors?
Subcontractors are a red flag! This means there isn't a guarantee of the quality or efficiency of the work. You want to ensure the you know who will be doing the work.
How long will the job take?
An experienced contractor should have a clear timeline and have a good expectation of when the job will be completed. Void any unforeseen circumstances.
What type of warranty comes with the roof?
Make sure your roofer gives you a warrantee on both the materials and workmanship, and what it includes.
What makes Schick Roofing a step above the rest
At Schick Roofing our warranties cover both workmanship and materials. Depending on the roofing material, the length of the warranty may differ. For example, the GAF Golden Pledge Limited Warranty, covers materials for up to 50 years, wind speeds up to 130 mph (which would typically be experienced in a category 3 hurricane), and it also covers workmanship for 25 years.
Finding any type of damage to your roof can be alarming, but having a trusted roofer can make it easier. As a leader in the industry, our goal at Schick Roofing is to repair any water leaks in your roof and install new roofs that can stand up to the wear and tear of the Central Florida harsh weather for decades
"I believe the only way to deliver the best possible product and customer service is to have my finger on the pulse of each and every job. This is why you will see me, the actual license holder, inspect your job daily so that you can expect the highest quality work on your home or business." Paul Schick owner.