Affordable Orlando Roofer; How Important Is Decking Underlayment?
Before you have new shingles put on your Orlando area roof, underlayment is put down to protect the roof decking against the elements, encourages water drainage, and to dampen the sound.
Synthetic underlayment is a combination of polypropylene and polymer that is water resistant. When it's installed correctly, it has better water protection than the traditional felt. There are two main types, rolls and peel-and-stick membranes.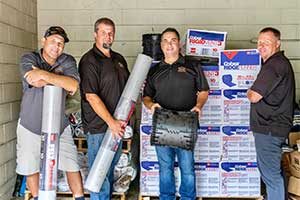 The underlayment is the foundation of the roof. It acts as an extra layer of protection for the decking, but still allows moisture to be released from inside the home and allows the deck to breath.
It also acts as a secondary drainage plane, directing water away from vulnerable places such as joints and seams.
"Moisture resistance and hardiness make synthetic underlayment a good choice as a secondary weather-resistant barrier under roof cladding," according to the Partnership for Advancing Technology in Housing (PATH). "Polypropylene and similar synthetic materials resist moisture, tearing, and degradation from UV rays, making them a durable, relatively long-term covering that can be used for disaster response. Fire-rated synthetic underlayments can provide added protection against fire spreading through the roof in multifamily housing and/or in regions of the country that are prone to wildfires."
Your Central Florida roof endures a lot, harsh weather, extreme heat, damaging storms, and debris. It is important to give it the best protection.
At Schick Roofing our goal is to provide the best materials at an affordable price. We pride ourselves in offering the best customer service of any roofing company in Central Florida. We're so serious about offer excellent service that owner Paul Schick makes daily visits to each and every job, big or small, to ensure that only the highest quality work is being done.
Contact Schick Roofing for more information and an estimate.